I like improvised music – both, performing and listening. The highlight for me this year, so far, has been a performance of FLAT TIME/sounding by David Toop at CIT School Of Music in Cork on April 15th as part of the "just listen" series of events. For this performance, David Toop was joined by John Godfrey, Mick O'Shea and Danny McCarthy.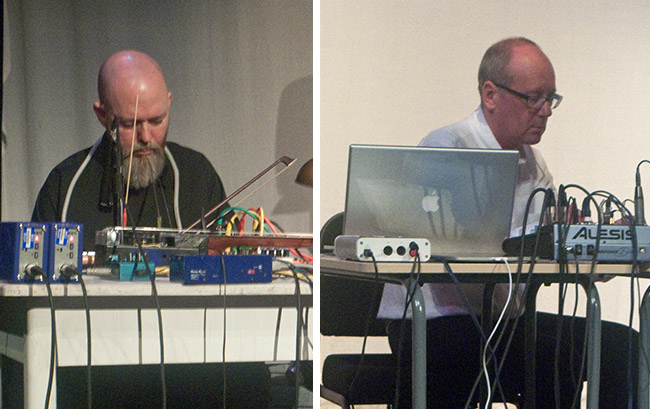 left: Mick O'Shea – right: David Toop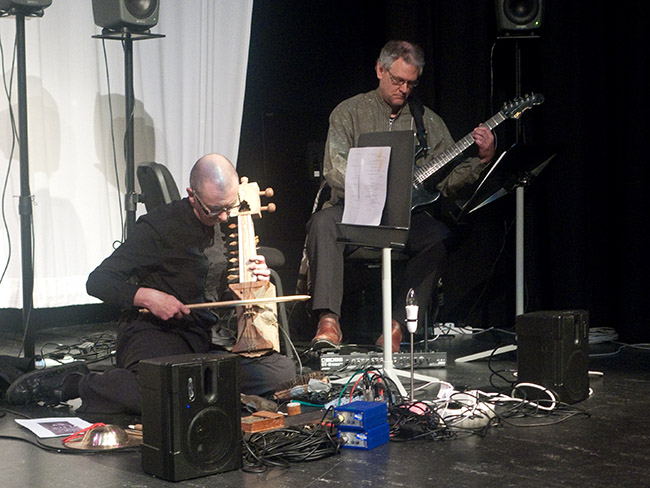 Danny McCarthy (on the floor) and John Godfrey (on the stool)
David Toop has worked most notably in improvisation, sound installations, field recordings, pop music production, and sound track/incidental music. Many of us "older people" remember him as a member of the Flying Lizards. He lectures as Visiting Professor at the University of the Arts in London.
John Godfrey lectures at University College Cork. His compositions are focused on minimal/experimental music, often with live and interactive electronics. He is also the artistic director of The Quiet Music Ensemble.
Mick O'Shea and Danny McCarthy together make up The Quiet Club. Their CD "Tesla" is available from Farpoint Recordings. They are well known locally and have successfully toured Poland and Shanghai, China.
FLAT TIME/sounding is a composition for improvising musicians, based on the concept of Flat Time by the very controversial (in the 1960s, I seem to remember) African born British artist John Latham. If I understand it correctly, it expands on a concept in theoretical physics/general relativity, where everything that exists, has existed and will exist in the Universe is an event with a duration – but, which Latham felt, fails to describe and locate immaterial events, such as art, music, spirituality and emotions. For an in-depth explanation of the concept (and perhaps to judge whether I understand it correctly), you might like to check out the John Latham Foundation and Archive.
The score is derived from Latham's Time Base Roller – a canvas fed off a roll, with the image surface facing away from the viewer, so that only one horizontal slice of the image, the slice just about to be unrolled, is visible at any one moment. Each horizontal slice represents the "time base" for an event, a kind of a logarithmic scale spectrum from left to right, from the most minimal event time to all time available in the Universe (or Multiverse?). The vertical axis represents "count time". Events are not simply ordered according to count time, but also according to time base within an "omnipresent score", like a two-dimensional coordinates system – hence "flat time" as opposed to linear time, I guess. Somebody correct me, please, if I got it wrong…
There are no explicit instructions to the players, who respond to aphorisms provided by the composer and to recorded markers from previous performances. In this manner, each new performance of the piece draws from the memory of all previous versions – which I see as a process of iteration and evolution. This also seems to be true for each moment of the performance, where each moment contains a memory of the accumulated conditions of everything that has passed, and where each moment is a slice of a continuum, rather than a "point in time". Since this process of accumulative iteration was also true for previous performances, the notion of a "Sonic Fractal" comes to my mind – a Fractal which exists in time as well as in space.
The concept is complex, and if I could understand half of it, I'd probably be doing quite well. The music, though, has the capability to transport me to the outer limits of my personal mind space. The emerging sonic landscapes seem to form layers of forever increasing intricacy, each one blending with what is already  there, with nothing getting erased or discarded. If this is what Latham means by "omnipresent score", then David Toop has succeeded, for me, anyway, in translating this concept into an actual musical performance.
If you like improvised music, live electronics, or sound art, then I highly recommend you try and catch a performance of any of these four musicians, in any combination, when the opportunity arises.