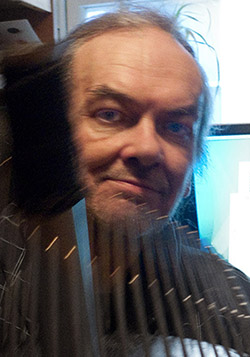 Yesterday, at about 10:00 in the morning, I dropped into the "Day Of The Endless Drone" 24-hour improvisation session in the old FAS building/Tax Office (now largely taken over by the College of Art and Design) on Sullivan's Quay. I liked what was going on. The notion fascinated me: the composition for the Cork City Gamelan I am currently working on (A Prophet Looking For A Wall To Write On) is a drones piece.
There were people invigilating. I asked whether it was o.k. to contribute a drone or two… went away and returned with my Waterphone early in the afternoon… droned along for about an hour and enjoyed myself immensely.
I walked out with a great sense of success and achievement. It was the fist time this century (a few years more, actually) that I had played music in public – only an informal improvisation, but I did it. After all those years, I am playing live music again. Virtuoso instrumental acrobatics are not possible for me since I got chronic MS, but there are other ways…
Tomorrow, I am getting a new laptop computer delivered. I am setting it up as a musical instrument for live performance. I shall be able to play my Cork City Gamelan live – that's something I had not planned when I started the project.
On October 22nd, I am playing my first recital since I became too ill to play conventional instruments. It is only a 20-minute slot at Sonic Vigil VI at Triskel Arts Centre's Christ Church, but for me, it's going to be a Big Thing. See the picture above – I had it taken especially for the occasion (thanks, Eoghan). I am planning to play A Prophet Looking For A Wall To Write On on my Waterphone, along with a prerecorded Cork City Gamelan backing track, and some impromptu sonic experiments, both on the Waterphone and the computer.