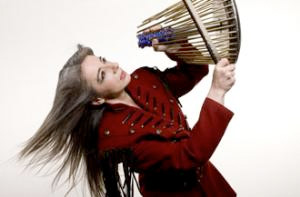 Dame Evelyn Glennie, the highly respected profoundly deaf percussionist, is playing a solo recital on Thursday November 24th at the CIT School Of Music – brought to you by the Cork Orchestral Society.
COS members can buy tickets now (as of November 4th) at Pro Musica in Oliver Plunkett Street, Cork (I've got mine already). Ticket sales to the general public will open on November 14th. Please take note: The Curtis Auditorium at the School Of Music only has about 450 seats!
It is an all late 20th and up-to-the-minute 21st century music show, with, as far as I am aware, only two of the composers older than Yours Truly – that's sort of unusual for a "classical" recital:
Ilijas by Nebošja Jovan Živković, a Serbian percussionist and composer based in Germany
a Waterphone improvisation by Dame Evelyn herself
Orlogeria Aureola by herself and Cellist, Conductor and Composer Philip Shepard
Tamazcal by the Mexican "World Music" Composer Javier Alvarez
Barracuda Solo by Jacob TV
her own arrangement of Liber Tango by Astor Piazzolla
Prim by Askell Masson from Iceland
her own arrangement of Clapping Music by Steve Reich
Rhythmic Caprice by the Marimba pioneer Leigh Howard Stevens
A solo percussion recital? Yes, Dame Evelyn can do it! She is the first Solo Percussionist in the World – a career she actually created herself.
Profoundly deaf? That's true – that's why I nominated her the Patron Saint of The Cork City Gamelan. The Cork City Gamelan promotes music making as an activity for people with disabilities.
(image credit: Jim Callaghan Studio)