This is probably my penultimate proof of concept piece. I successfully created a few software instruments from the sounds I recorded so far. Here is a photo collage of the ensemble: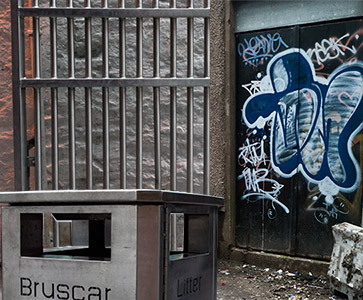 And here is The Music (2.3 MB / 2:16 in the iPod / iTunes MPEG 4 format, opens in a new window). It's got warts and pimples, but I know how to deal with them.
There are three software instrument prototypes involved in this: the sounds of the stainless steel gate from Oliver Plunkett Street into the English Market, a heavy metal door in Grafton Street, and one of the common litter bins… and some Waterphone samples by Todd Barton towards the end – they are available as a software instruments for the Native Instruments Kontakt player. The sound of the Waterphone seems to blend really well with my Gamelan. I am still patiently waiting for my own. Meanwhile, thanks for the samples, Todd!
One more test to go: blending between different sounds according to key velocity… and then I am all set to make music with my (hopefully) forever evolving Cork City Gamelan.