It is sort of lengthy and complex – but it develops, has an obvious structure, and is probably quite easy to listen to.
Fluid Mechanics in the iPod and iTunes MPEG 4 Format (AAC / .m4a), 9:20, 7 MB to download, opens in a new window…
It is "100% pure Cork City Gamelan": I extracted all the sounds I needed to compose and produce this music from recordings of me tapping various objects and structures around Cork City with a variety of different beaters.
Hard to believe, especially those industrial sounding drones in the beginning, starting with just one, ending up with ten of them layered on top of each other three minutes into the piece…? Here is a quick abstract of how I did it, for DIY music makers, produces and sound artists:
Each of the Drones in the first part is made from a slice of sound taken from the "musical gestures" in this page, just large enough to capture the harmonic complexity of the sound, and looped for up to three minutes. There is software available now to speed up the task – but when I had my first computer, about 15 years ago, I did this kind of work by copying and pasting. It is actually a simple Granular Synthesis technique, and I can do it live in Metasynth – and that's exactly what I am doing in this picture, taken at Sonic Vigil 6: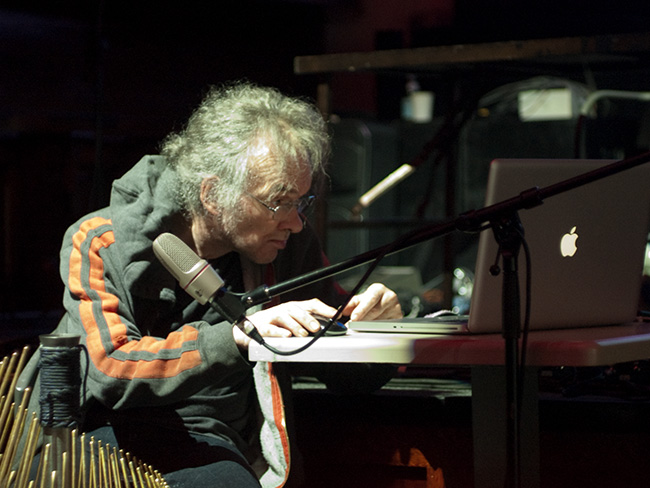 picture by Eoghain Mac Carthaigh – I needed to post this for my Mom and Dad as a proof that I actually performed live
The second part is just a build-up of a clutter of different hits and bangs on various Cork City Gamelan Instruments: a plastic wheel bin struck with a stick of bamboo, the same steel gate which supplied the drones, a standard metal street litter bin, and that amazing heavy sheet metal door in Grafton Street.
The final part is performed entirely on a galvanized rainwater pipe. I stretched and shaped the recorded sound and filtered the uneven "metallic" harmonics just enough to be able to shift the pitch to create the tonality – which is based on a scale/chord consisting only of minor thirds… anyway: Enjoy the music – if you can. I certainly enjoyed putting this piece together.