I have a new Waterphone, a "Whaler" – much smaller than my original "Megabass", and a lot easier for me to play live.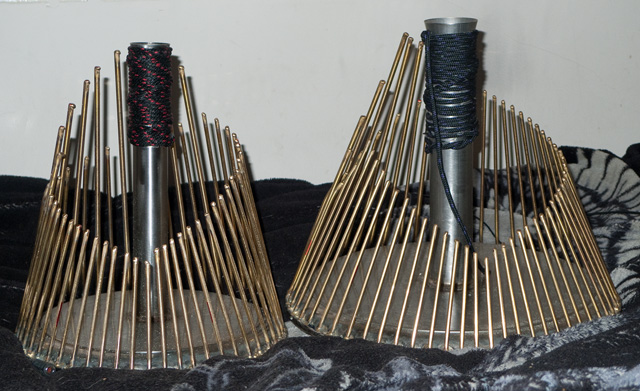 the Whaler and the Megabass Waterphones, side by side (note to self: I must tidy up and fix the rope on the "exhaust" of the big one…)

Thank you, Richard!
It arrived for my birthday, but I was out of the country. A neighbor took care of it, and handed it over to me on Tuesday – just in time for our almost regular Wednesday jam. We played for about an hour. Here are the last 11 minutes and a quarter – a bit of slightly oriental sounding abstract ambiance, very quiet, mainly Bass and Guitar: Reprise (12.5 MB, in the iTunes/iPod MPEG4/AAC format, opens in a new window).
Bellows: Allsorts, including the Wok and Pebbles which I have already used on several Cork City Gamelan pieces
Metalizer: Electric Guitar
Sonikjahz: Bass Guitar
Yours Truly: my new "Whaler" Waterphone
Most of the time my Waterphone is just barely there in the mix, but I like it a lot. I don't always need to be loud and obvious, eh? Actually, I am using a new extended technique about three quarters into the piece which is loud and obvious – but it doesn't sound like a Waterphone: I placed a metal protector for a saxophone reed on the top of one of the rods. Striking the rod produces a very subtle complex rattle.
Enjoy and feel free to share, but don't remix, please – see, it is a group improvisation and not entirely my own composition. I'll be posting music for remixing again, promise…