Denis gave me an indefinite loan of his old electric guitar to experiment with.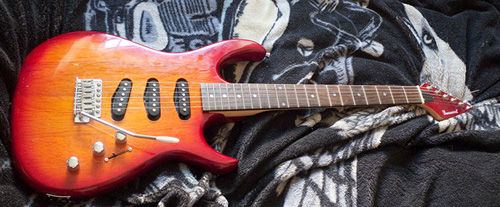 He says it is the cheapest electric guitar money can buy.
Whether or not I was ever able to play the guitar can be disputed. I would assess myself as "slightly above Three Chord Trickster level". I certainly cannot play the guitar any more since I became disabled, though.
Let me re-phrase the last statement. How about: Since I became disabled, I cannot play the guitar in a way an audience would expect a professional guitarist to perform.
Regardless of any disabilities, everybody also has at least some abilities, even though it can be a challenge to discover them and then "just go and do it".  I have been calling this attitude Just Play, in response to the Sound Art motto Just Listen.
Last December (2011) after her concert in Dublin, I spoke with Evelyn Glennie about improvising and "just playing", especially in the context of the need to work around disabilities. I am passing on her ideas and views over the coming weeks and months… together with some of my own, as I continue exploring this guitar.
By saying just play I meant to encourage people to let go of inhibitions and to just do it. Dame Evelyn points out that to use the word play sometimes may be quite frightening for people who have not played an instrument before. In order to motivate and encourage people, she prefers to simply ask people to create a sound. Making sounds, in her experience, is more approachable for most people than being asked to play something.
On this "just create sounds" basis, she asks people to introduce themselves though the instrument. This helps her to easily find out more about the personality of students she works with: degrees of extroversion, shyness, and so forth… and suddenly they realize they are actually playing the instrument, but they haven't been concentrating on it because they were concentrating on introducing themselves.
I got the clear impression that to Dame Evelyn making music is primarily about creating sounds by any accessible means. I mentioned Sound Art, and how I see it, in many cases, as a marketing label for music which doesn't really fit into any commercial genre or category. She spoke about looking at Foley Artists as musicians – a Foley Artist's instrument might be a sofa, and a range of different sounds might be required for a sound track… and she treated me to a little private impromptu Foley performance on the sofa in the backstage reception area at the NCH.
I shall pass on more insights and words of encouragement by Dame Evelyn as I write more about my exploration of this electric guitar and about improvising. For my first piece, I am trying to introduce myself. It doesn't quite work like the scenario Evelyn Glennie spoke about: I have been making music all my life. I don't need to overcome inhibitions, and I have already moved beyond the "I cannot play any more" block. Instead, I am finding new ways to play instruments which I am not able to play the common practice way. Listening back to it now, it seems to me that I very much introduced my current style of composing and improvising through creating sounds with this guitar: The piece I came up with clearly fits in with what I have been experimenting with during the last few months – the main difference is the source of the sounds I have used: a real musical instrument, rather than recordings of me beating doors, gates and bins around the City.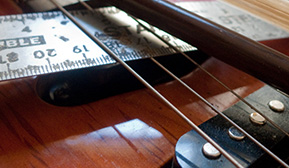 The Way I Like To Do Things, 4 MB in the iTunes format, 3:50 of music – feel free to deconstruct or remix it – the terms and conditions are in the disclaimer page.
I improvised four overdubbed tracks, bowing and plucking the guitar, and inserting objets between the strings to make twangs and rattles. I edited the resulting 6 minutes down to under 4 minutes… perhaps this makes the music more radio friendly?
My friend Metalizer, a really good guitarist with whom I have been jamming for decades, didn't cringe when I played this for him. Amazing….
By the way: I used no effects, apart from some reverberation. It is all just plain electric guitar.